Environmental Educators in the Bay Area Team Up to Address Climate Communications
Image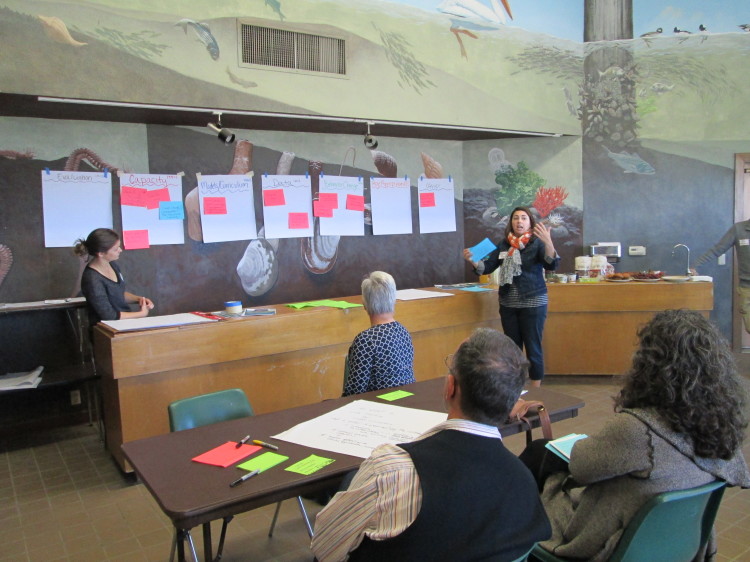 Story/Content
In 2014, the Institute at the Golden Gate published a Bay Area Climate Change Education Needs Assessment to capture the state of climate communication in the region. This report demonstrated that there are many challenges to developing climate change programming—such as a lack of time, staff capacity, locally relevant data, and engaging curriculum—but that there is an immense interest from educators to persevere through these obstacles together. The Needs Assessment further illustrated that 84% of survey respondents are interested in collaborating with their peers to address these challenges.
Hoping to address this need, the Institute at the Golden Gate convened the Bay Area Climate Literacy Collaborative in August 2014. Since its inception, the Climate Literacy Collaborative has brought together over 25 organizations, ranging from federal agencies to local science museums, serving constituencies from all around the Bay Area, all with the commitment to create high-quality, impactful climate programming. While still in its early stages, the Climate Literacy Collaborative has managed to gain steam quickly. Thus far, we have drafted the following vision, mission, and priority project areas:
Vision: Climate literacy and action are universal throughout the Bay Area. Climate science is an integral component of learning in the region. A culture of sustainability has become the social norm and communities are taking an active role in building their own climate resilience.
Mission: To increase climate literacy and action throughout the Bay Area by sharing successes and by building capacity of climate educators and messengers.
Priority Areas:
Offer climate communication trainings to environmental educators. Future topics may include introduction to climate literacy, annual gatherings to discuss application of best practices, trainings for environmental educators on age appropriate climate programming incorporating Next Generation Science Standards (NGSS), and more.
Create new joint sustainability projects and innovative programs. Projects under this priority area would harness the collective power of the collaborative as a catalyst for behavior change and give the group an opportunity to pilot new, innovative programming.
Connect to local impacts and science. This priority area will help foster collaboration between local scientists and climate communicators. It will connect educators with up-to-date information on local climate change impacts and provide data that is relevant and accessible to wider audiences.
We greatly look forward to working with these dedicated educators to advance climate literacy and action in the Bay Area. As we move out of our strategic planning phase, stay tuned for updates on the unique work of the Bay Area Climate Literacy Collaborative.