The Nature Conservancy at Cavallo Point
Image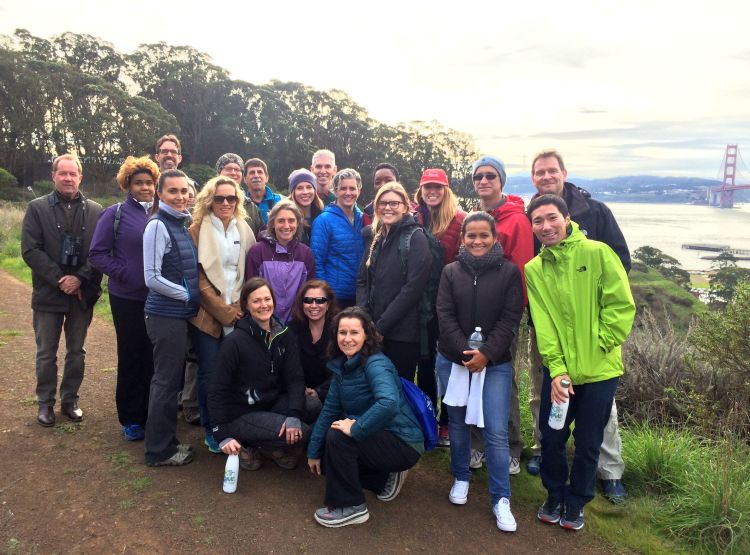 Story/Content
The Nature Conservancy, established in 1951, has a mission to conserve the lands and waters on which all life depends. With such a mission, Cavallo Point – the Lodge at the Golden Gate was the perfect place to host their latest team retreat for the Office of the Chief Scientist. Through the Institute's partnership with Cavallo Point we aim to ensure that this national park lodge is available and affordable to organizations addressing important issues around the environment and sustainability.
With a focus on science ranging from agriculture and climate to marine life and urban conservation, The Nature Conservancy's more than 600 scientists, researchers, analysts, and innovators are an integral part of the organization's work to protect the planet. This past December's meeting allowed a small portion of this group, the Office of the Chief Scientist, to gather and train their team, set global strategy for the coming year, and socialize in a relaxed setting. Retreat attendees work all over the world using decision science tools from economics and applied mathematics to formulate and solve conservation problems in the real world. Gathering the group at Cavallo Point proved to be the perfect central location: close to an international airport, easy and quick to get to, and a great backdrop for a conservation-focused organization.
Cavallo Point lies within Fort Baker, encompassing 335 acres around a cove north of the Golden Gate Bridge. The area provides miles of coastal and inland trails, diverse flora and fauna, and a mix of historic and modern, eco-friendly structures. "The natural setting was amazing and perfect for our group!" Sarah-Kate Weaver, Executive Coordinator for the Office of the Chief Scientist said. "Our team members loved being able to connect with nature. We went for a beautiful hike, and people were able to go for morning and evening walks on their own to get out in nature. On the very first day folks excitedly reported seeing a coyote, fish, many kinds of birds, and seals! We were blown away by the Lodge. The rooms were beautiful with incredible views of the bridge and city. We were very impressed with the professionalism and responsiveness of the staff."
The Institute's discounted rate is available annually from November through April, providing an affordable and beautiful meeting place for non-profit and government groups gathering to address environmentally-focused issues. Learn more about this opportunity, how your group may qualify, and how to apply by visiting our Cavallo Point page.