Recapping the Health Outdoors! Parks and Public Health Forum
Image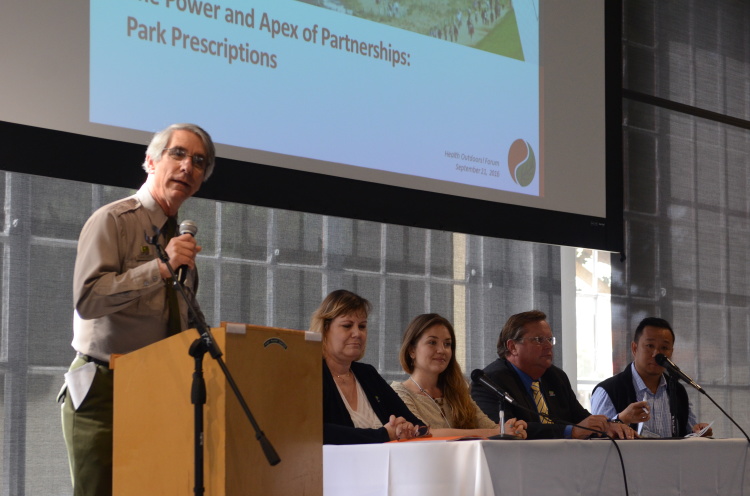 Story/Content
On September 21, 2016 the Institute's health program convened 200 Bay Area parks, public health, non-profit, and academic professionals at the Health Outdoors! Parks and Public Health Forum.
As an event, Health Outdoors! sought to bring together those who work at the intersection of health and nature, and provide them with a space to learn from one another, share best practices, and build partnerships.
Through attending this forum, participants gained a solid understanding of:
Clinical evidence of parks' impact on individual and community health
Evidence-based parks programs that are making a difference in community health
Building key partnerships that can achieve systems change and promote health equity
Strategies and free resources to create physical activity programming
This event took place at Fort Mason Center in San Francisco, and was put together in collaboration with the Healthy Parks Healthy People: Bay Area Collaborative, Bay Area Moves! and made possible by Kaiser Permanente.
In the morning attendees had the opportunity to listen to dynamic and engaging plenary speakers Dr. Nooshin Razani and Dr. Nina Roberts, who both made the case about why it is important to be physically active outdoors in nature, and why it is essential for communities to have both equal and equitable access green space. In addition to listening to speakers who are the leaders in the fields, one of the morning highlights was the physical activity break where attendees learned the dance to Michael Jackson's Thriller. The morning session ended with a panel of park and health agencies who have been successful in creating park prescription programs in the Bay Area.
During lunch not only did everyone at the forum have the opportunity to network with one another, but attendees also had the opportunity to experience the many health benefits of nature firsthand through a ranger-led tour of Fort Mason and yoga on the Great Meadow.
In the afternoon attendees attended two sessions of workshops that provided them with strategies and best practices around how to leverage health and park partnerships to create equitable built environments, ways to incorporate physical activity into current programs, creating park prescription programs, and creating programs that attract diverse communities.
Overall, the Health Outdoors! Parks and Public Health Forum was a great success. To be there as both a volunteer and an attendee was truly a rewarding and amazing experience. The excitement and energy  around the opportunity to learn and collaborate from one another was palpable and felt by both those presenting and those attending various workshops.