BayCLIC's Next Workshop Digs Deep into Extreme Events
Image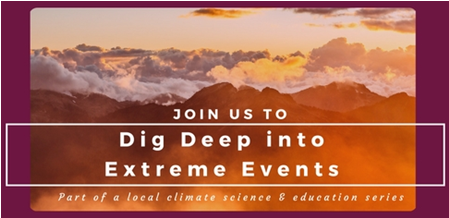 Story/Content
After a successful first workshop on ocean acidification (see the highlights in the Conservancy's E-venture article), the workshop series by BayCLIC is evolving from water to land. The second workshop, Dig Deep into Extreme Events, will cover extreme climate and weather events like droughts and wildfires. Tapping into our network of organizations that help steward and cultivate our natural resources, we have partnered with East Bay Regional Park District and the San Francisco Chapter of the Sierra Club to hold the event. We are excited to create a space for educators and scientists to learn about climate-related extreme events in the Bay Area, witness best practices for speaking on this topic, and brainstorm how to discuss solutions. Dig Deep into Extreme Events will be held at Temescal Beach House (6500 Broadway, Oakland 94168) on December 7, 2017 from 9:30-1:30 PM.
The Science and Education Communities Come Together to Discuss Extreme Events
In light of the recent extreme events in the Bay Area and globally, we want to be sensitive in approaching this topic. At the same time, we know that climate educators are facing questions about the role of climate change in extreme events. Our workshop will equip them with research and speaking points for answering these questions. As you will see, we have gathered an impressive group of speakers with various areas of expertise to provide more resources. First, we have Minda Berbeco, the San Francisco Bay Area Chapter Director of the Sierra Club, opening the workshop with a fascinating presentation on climate science and extreme events risks in the region. Minda brings with her a background in environmental education to make her a great person to talk about the importance of science and education collaborations.
We'll Discuss What They Are,                                                                               
Next, a notable group of local researchers will give flash talks explaining extreme events occurring in Central and Northern California. Ever wonder how scientists can determine future projections of extreme events? Senior Scientist, Dr. Michael Wehner of Lawrence Berkeley National Laboratories, can tell us how. He is the go-to person for extreme event attribution and future projection modeling. Participants will hear what he has to say about climate change and the future of the Sierra Nevada watershed that provides water to the Bay Area.
Why They Matter,
After learning the science behind extreme climate and weather events, we will discuss why they are of concern, particularly to our parks colleagues. In East Bay Regional Parks District, interpretive staff members use invasive plant removal as an opportunity to talk about climate change with volunteers. From the Golden Gate National Recreation Area, Rangers Roxi Farwell and Aracely Montero will demonstrate how to discuss social impacts of extreme events as they do in their Climate Without Borders program. As research has shown, place-based climate information that draws on common values like protecting well-being is part of effectively communicating climate change. We'll be sure to cover this and other communication strategies in our workshop.
And What We Can Do
Finally, we'll leave attendees with a framework to help them create solutions messages for their audiences with examples of successful community- level actions that they can help promote in the Bay Area. Providing solutions is an important part of climate messaging in order for audiences to feel empowered in addressing the issue. BayCLIC member and seasoned climate communications expert at the Marine Mammal Center, Adam Ratner will lead us through an exercise on solutions messaging.
We also want to help the educators and scientists in attendance bring back what they learned from the workshops to their home institutions. A portion of our workshop will be dedicated to supporting attendees in thinking through the next steps they need to take talk more about climate change in their work and encourage them to consider collaborations with their peers in attendance to make this happen.
This workshop series aims to be a catalyst for more cross collaboration between scientists and educators since we know that we cannot do the important work of promoting climate literacy without one another.