Instituting Innovation: Q & A with Diane Mailey
Image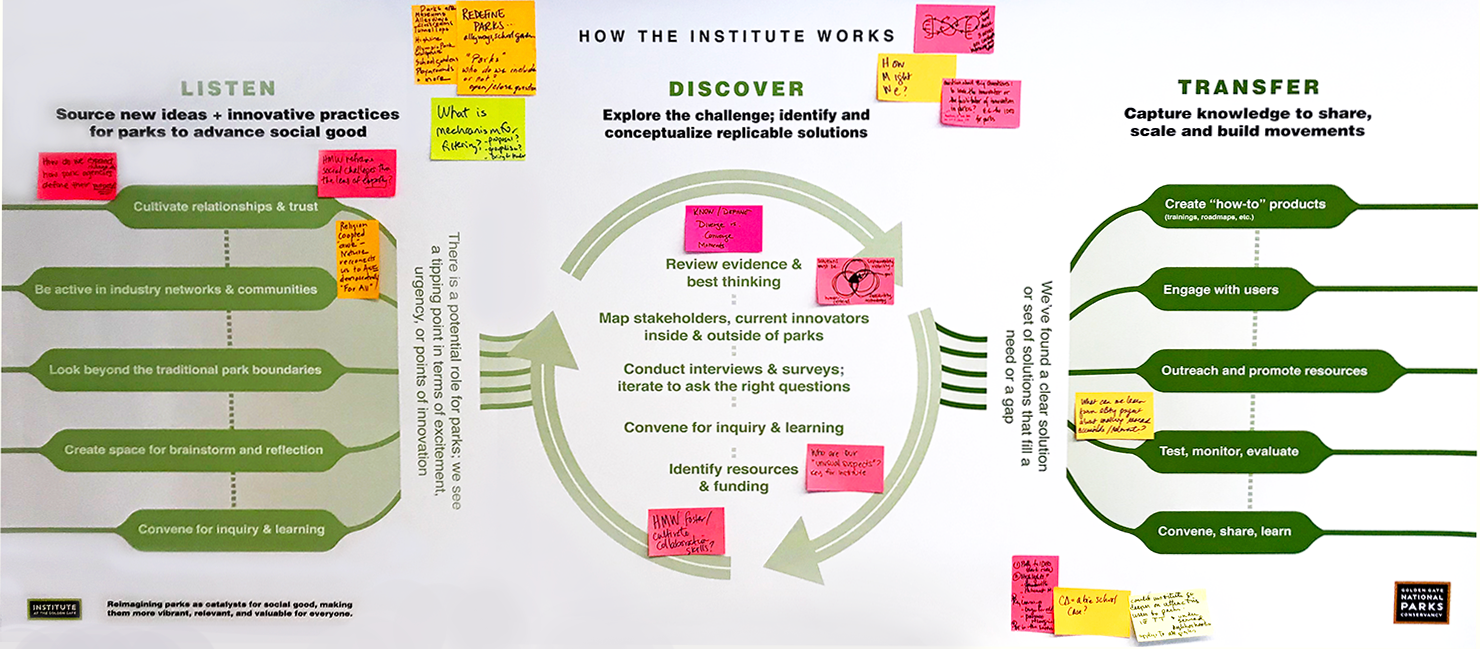 Story/Content
Diane Mailey is unconventional. She joined the Golden Gate National Parks Conservancy as a park enthusiast without the typical background of other park professionals. But as the new director of the Institute at the Golden Gate, leading with an innovative approach puts her on a promising path.
Her background has a common theme—working at unique intersections to address complex societal issues. Mailey has operated in a range of social sectors from affordable housing and community development to healthcare and education, working on both coasts and in communities around the world.
"This may not seem like a traditional park approach, but I've seen the power of partnerships that work across unconventional boundaries to accelerate positive change," Mailey explains.
However, she admits her interest in the parks really stems from one thing: "I seriously covet those park ranger hats!"
Though she has a hankering for ranger-wear, she is driven by opportunities to transfer knowledge and make a bigger impact within the park community. As the Institute celebrates 10 years of building movements, Mailey took a moment to sit with me and reflect on how far the Institute has come and how far it's willing to go.
The Institute has been around for a decade, but some people still aren't familiar with it. What is the Institute at the Golden Gate?
I'd describe the Institute as an innovation lab for parks and public lands. We recognize the enormous value parks provide as conservation and recreation resources, and we see an even greater opportunity for parks to address social challenges in areas like healthcare, community inequities, workforce development, or even poverty. We envision parks as cornerstones for social innovation in every community, making parks more valuable, relevant, and vibrant for all.
PARKS that are relevant and accessible FOR ALL? That sounds like the Conservancy! So, how do you work with the Conservancy and our National Park Service?
As a program of the Conservancy, we learn from pioneers and thought leaders within the Golden Gate National Parks. At the same time, we work in a larger ecosystem allowing us to identify best practices outside this park and across other sectors. We not only serve park leaders and staff but also learn from those who are thinking creatively to reimagine the range of benefits that parks can bring to all people. Many of the Institute's most promising ideas come from the innovative programming happening within our own parks.
How does the Institute define this innovation?
That is such a great question, especially since there seems to be a depth of innovation happening at the Conservancy! At the Institute, we're exploring a distinct form of innovation that can significantly increase the value and social benefit of parks. Specifically, we're looking at practical solutions to engage more park users by reframing parks as authentically useful to new and more diverse audiences. We call these breakthroughs "sparks of innovation." But we're not looking for fringe or one-off solutions. We pursue opportunities that have the potential to build movements and effect systemic change.
What is the most important thing you learned from the former director about exploring these opportunities?
Be curious and challenge assumptions. I think curiosity is often overlooked as a valuable tool to help us connect, motivate, and inspire. It's the seed of every new idea and a springboard for greater progress or disruptive innovation. Our explorative approach is usually less about having the perfect solution and more about asking the right questions. It's an organic regulator for openness and practicing humility, letting us see value in diverse perspectives. What I really love about curiosity? It often brings the unexpected delight in the act of discovery. I continue to learn this every day working with the Institute team!
What are some current projects for the Institute team?
The Institute's work is always evolving along with society's needs. We've evolved from focusing on the benefits of outdoor activity and physical health to recognizing how parks can improve mental, emotional, and social health. As a result, we're creating a series of training programs to help park leaders and staff create programming on a range of critical issues including social isolation, trauma informed stress, and mental health.
We also see parks on the frontline, facing challenges to better serving homeless park visitors. The Institute has been engaging a range of partners to better understand these issues. They're complex and require thoughtful, proactive approaches. I see this as an important opportunity for us to make a significant impact by working with urban park leaders and transferring our knowledge through capacity building and trainings.
What excites you most for the future of the Institute?
I am excited by both the challenges and opportunities ahead. We see a lot of interesting things on the horizon, and the Institute team is energized, rather than intimidated, by the current issues facing parks and public lands. This upcoming year will be exciting for many reasons, particularly because we have significantly increased our capacity to share and evaluate our work with parks across the county through our new online platforms and tools.
There is much to be excited about but much to do. We know our parks are precious resources, but it feels like we're just starting to see them as powerful assets for addressing complex human challenges. As we discover a new future for parks, whether that be as a solution to the public health crisis or as a generator of social cohesion, their value will only increase, here in the Bay Area and beyond.