Introducing the BayCLIC Website!
Image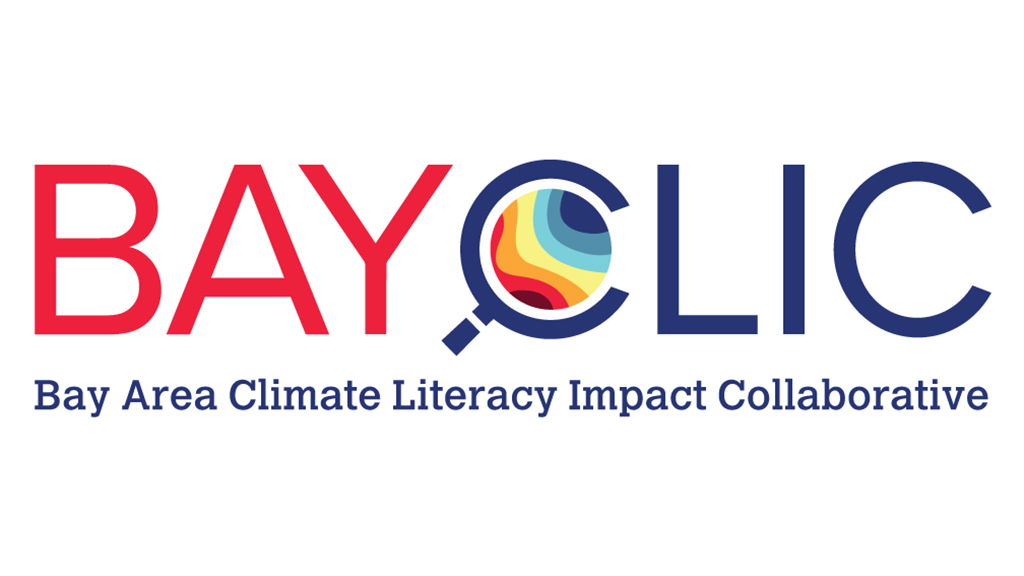 Story/Content
After an exciting year since the launch of our climate collaborative, the Institute is very pleased to announce the creation of BayCLIC.org. This website will be our one stop shop for all things related to the Bay Area Climate Literacy Impact Collaborative (BayCLIC). On the site, we have information on who we are, showcase some of our partners, host a number of climate tools, and offer information on how interested individuals can plug into what BayCLIC is doing. Check out our website to learn more about the three key themes that BayCLIC has identified for advancing climate education and action in the region as well as the tools we're offering related to each theme.
One key theme is to provide educators with more tools and training opportunities. Acknowledging that there are already many existing toolkits and trainings out there, BayCLIC's biggest value add will be to point educators towards the highest quality professional development opportunities that are available in addition to condensing the process for getting started.  To do this, we'll be designing and hosting on our website a climate education roadmap, which will provide a brief and digestible summary of the recommended steps an educator needs to take to start communicating on climate change. While we work to create this roadmap the site has handful of our favorite climate education resources for educators to start using.
Another key BayCLIC theme is to go beyond climate literacy and shift individuals towards more climate friendly behaviors. Research shows that climate literacy doesn't always lead to climate action so we're hoping to bring audiences from awareness to behavior change through a coordinated climate messaging campaign across BayCLIC organizations. The goal of this pilot campaign will be to reduce carbon dioxide emissions from vehicle use by recommending alternative modes of transportation. We'll be taking the next few months to plan out this campaign; in the meantime we've recommended a handful of leading organizations pushing for alternative transportation that educators can suggest their audiences look into.
Finally, our last initiative is to increase educator access to more local climate science resources, stemming from the commonly cited desire among educators to be able to speak more fluently on climate risks at their sites or regions. As part of this initiative, we are very excited to share a local climate science database featuring science resources like reports, data visualizations, and charts that focus on the San Francisco Bay Area. Educators will be able to filter by climate change aspect—sea level rise, erosion, etc.—by parts of the region, affected species, and more. We will continue to add resources to this database periodically and will be accepting additional suggestions of local climate science resources.  If you'd like to submit a resource, please contact us and tell us more about the resource you're recommending. In addition to the database, we'll also be putting on science and educator seminars over the next six months that will be focused on spotlighting local climate science work and create more connections within the Bay Area's science and educator communities. Check back on our events page in the coming months for more information on the seminars.
BayCLIC is looking forward to expanding our audience and we hope that, through this site, more educators are exposed to the opportunities for authentic, science-based, and personal conversations on climate change. For those curious about the challenges educators have in talking about this topic, what role education plays in this important issue, and what it means for the Bay Area, watch this brief 3-minute video that frames why we do this work.