Introducing the National Park Service Urban Fellows
Image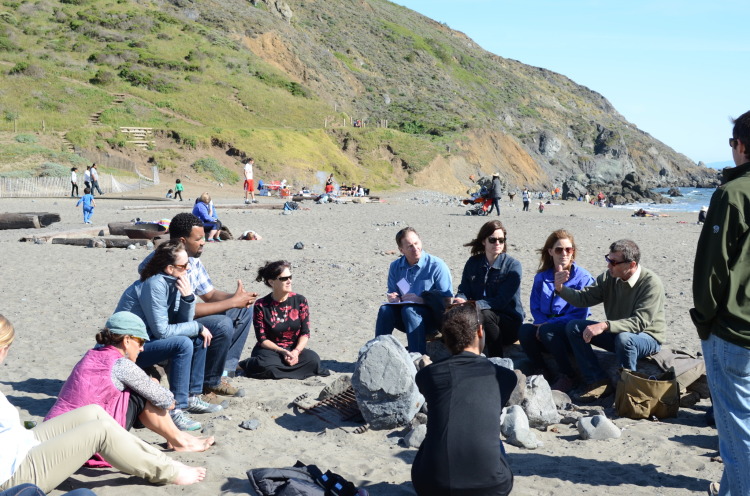 Story/Content
In our April 21st blog post, we discussed the exciting announcement by the National Park Service (NPS) that unveiled the Urban Agenda, including the launch of the Urban Fellows program. This innovative fellowship puts into action the Urban Agenda's vision of how NPS can engage urban communities in new and enhanced ways. The Urban Fellows will be deployed in ten model cities, including one in our own backyard at Rosie the Riveter in Richmond, CA. They will have the exciting and challenging task of acting as liaisons between key park staff, park partners, and their surrounding communities. By evaluating and sharing their experiences with the broader community of urban park stakeholders, this program will yield invaluable best practices for the National Park Service and help shape future engagement strategies.
The fellowship kicked-off last month with an immersive onboarding workshop in the Golden Gate National Recreation Area at Green Gulch Farm, hosted by the Institute at the Golden Gate. During the workshop, fellows met with their cohort, discussed their vision for their two-year assignment, explored the principles of the Urban Agenda, and discussed strategies for cross-sector collaboration. They also met with key leaders in the field, including the Director of the National Park Service, Jon Jarvis; outgoing Superintendent of the Golden Gate National Recreation Area, Frank Dean; and President of the Golden Gate National Parks Conservancy, Greg Moore.
Fellows also had the opportunity to observe a local example of a successful park partnership. Jim Wheeler, Recreation Manager for San Francisco Recreation & Parks, Lisa McHenry, Recreation Leader III and our very own Kristin Wheeler of the Institute at the Golden Gate discussed the innovative partnership that formed the Healthy Parks Healthy People: Bay Area collaborative. The fellows were able to experience a typical First Saturday program, a free program for Bay Area residents that provides guided, light physical activity to improve mental and physical well-being, while also giving participants the chance to explore their local parks.
After an intensive few days focused on developing internal relationships and strengthening their understanding of their role in the Urban Agenda, the Fellows traveled across to Bay to participate in the City Parks Alliance's Greater and Greener Conference and to play a key role in the NPS Urban Caucus, which followed the Conference. Through those events, the Fellows were able to connect with the larger urban parks community, further defining their role as part of the larger movement. Soon after the action-packed week, the fellows were deployed to their ten model cities. 
Here at the Institute we are particularly excited to follow and support the work of Kieron Slaughter, who will be stationed with the City of Richmond as the Rosie the Riveter Urban Fellow. Watch this space for more developments as we continue to support and report out on the work of the Urban Fellows!