Welcoming You Back to Cavallo Point for 2017-2018
Image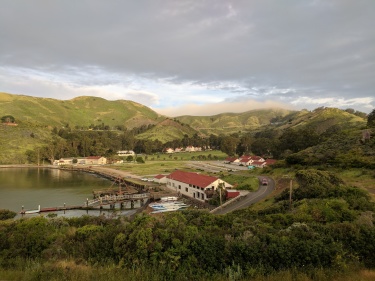 Story/Content
Towards the end of the Institute's 2016-2017 special rate period, The Joseph & Vera Long Foundation gathered for a strategic planning meeting at Cavallo Point – the Lodge at the Golden Gate. As a nonprofit organization discussing conservation issues, The Long Foundation qualified for the Institute rate, which offers discounted rates to nonprofit, government, and cross-sector groups tackling environmental issues. This unique partnership between the Institute and the Lodge lent the perfect National Park background to the Foundation's strategy-setting efforts. Meeting at scenic Cavallo Point allowed the Board to "really focus and reflect without distractions," Executive Director Milton Long stated. "[We enjoyed] the peaceful surrounding and privacy, and the many trails and outdoor spaces nearby."
The Long Foundation provides both strategic grants focused on achieving a defined impact, and responsive grants aimed at meeting Northern California and Hawaii community needs for qualified healthcare, education, and conservation not-for-profits. Within their conservation work, the Foundation funds efforts in habitat preservation, access to public lands, environmental education, and scientific research.
Similarly, the Institute aims to bring groups to Cavallo Point for environmentally-focused sessions that are action-oriented, represent diverse perspectives and sectors, have a local, regional, national, or international impact, and that spur commitment leading to clear outcomes. Every November through April, groups find inspiration in the national park lands, the San Francisco Bay, and historic Fort Baker through the Institute rate. We help provide an affordable means for organizations to tap the beautiful surroundings while discussing their plans, goals, and impact on the environmental arena.
If your non-profit or government group is planning a meeting around environmental, conservation, or sustainability issues, consider joining the Institute at Cavallo Point. Discounted rates run from November through April every year and applications are accepted year-round. We hope to see you there soon.