Where are all the women in parks?
Image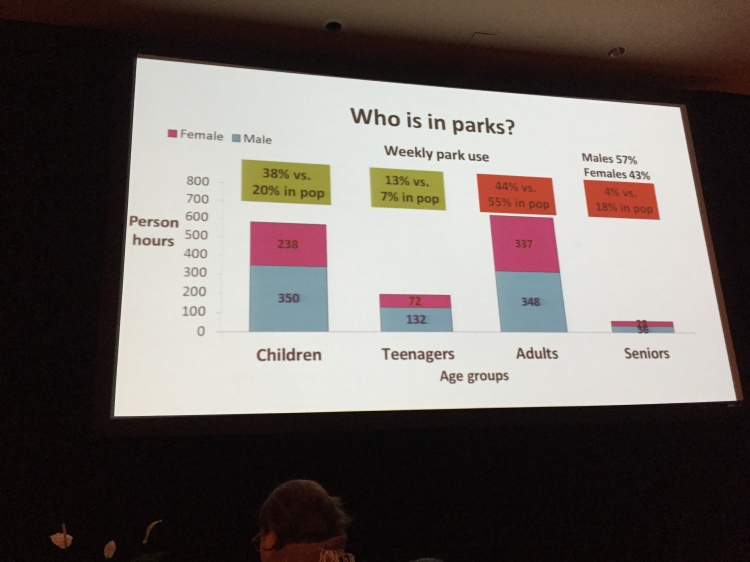 Story/Content
In honor of National Women's Health Week, we're shedding light on a structural issue that comes at the intersection of women's health and park use. Namely, we're wondering where are all the women in parks. 
Park use equity is disparate among many different facets, especially for ethnicity and socioeconomic status. However, new research is revealing just how disparate park use is between male and female constituents. Deborah Cohen and her team at the RAND Corporation is a year into their study of measuring park use through the SOPARC method. At last month's Greater and Greener Conference in San Francisco, Deborah shared preliminary results from the study and the results show a large rift in park use between these two genders. 
Of course, the health benefits of being in nature have been stated many times on this blog, but the ramifications of having park use disparities is that parks' health benefits are disproportionately widening the gap of health equity. Collectively, women are already facing more adverse social determinants of health than their male counterparts. For women of color and lower socioeconomic status, their gender is further compounded with other factors that limit their utilization of parks. 
What does park use disparity have to do with women's health? Besides the fact that women are not getting as many of the health benefits of nature, the differences in use signal an underlying question of park design and programming. Why are women not in parks as much as men? Responses that suggest time constraints with motherhood and family obligations fail to address the larger role that parks and policies have to do with encouraging women--especially those with familial obligations--to go to their parks. 
As we celebrate National Women's Health Week, we as park advocates must look at ways that we can reach out to women and especially women of color to bring them into parks in more substantive ways. Letting parks continue along the path of the status quo can lead to a further rift in women's health.