Story/Content
Diversity, what is that? One of the main topics of conversation in the environmental movement is that of diversity. Here in the Golden Gate National Recreation Area, we are home to an incredibly diverse population, both culturally and ethnically. Therefore the question remains how parks can actively engage all of these different communities.
Last Thursday I had the chance to attend an event put on by Latino Outdoors called "Yo Cuento." The title of the event can be interpreted in various ways – I count (as in numbers), I tell a story, or I matter. The founder of the organization, Jose Gonzalez, brought people together to explore the role of culture as it pertains to an individual's interpretation of the outdoors.
In essence, different cultures interpret nature in different ways. The park world should therefore step outside of its park mentality and be willing to go into unexplored and perhaps uncomfortable places to reach the non-traditional park user in an engaging and meaningful way. One of the main points of conversation revolved around viewing our ignorance, biases, and preconceived notions of others as a valuable trait rather than a hindrance. In other words, if we are open and honest about our ignorance then we set ourselves up for open dialogue and this honesty can be refreshing. We can do this by framing our data-driven messages with a dose of storytelling.
Ask yourself this, what is the Latino Story? For some it means illegal immigration or Cinco de Mayo celebrations. Here is another question – have you heard of the Monarch Butterfly? If so, how are the two related if at all. Well, it represents both an endangered butterfly, and a symbol to migrant workers. Jose showed two maps – one represented the migration patterns of the butterfly and the other for migrant farm workers in the US. The two could almost be superimposed. This story gives personal meaning to both an environmental concern and a human concern with a much more powerful impact than a more traditional and scientific approach to the conservation of an endangered species.
This led him to talk about the academic research that supports the notion of culturally-dependent interpretations of nature. He showed the following adaptation by Charles Thomas of the original Edwin Nichols model: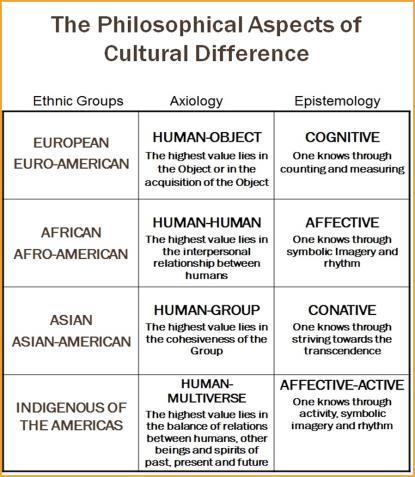 He used this table to point out the subtleties of the different cultural interpretations of the outdoors. However, this is not a definitive tool but rather something to help us be open to differing perspectives.  According to the table, some groups may be more interested in the scientific approach to nature while others may be more interested in how we can relate to each other in the outdoors as a group. Essentially, we should be using storytelling as entry points to topics of diversity and inclusion. We have to step into the discomfort that may come with changing our programs or services into something that may not fit our vision of what they "should" be.  
One of the major questions revolving this topic is that of safety. How do you make people feel safe? One of the best strategies is to be willing to be vulnerable yourself by making explicit the existence of preconceived notions that are created based on biases formed from lived experiences. Once people realize that you are being honest with yourself and others, then it can lead to shared growth. To test, he showed us a picture of a Latino family outdoors as an example. It was a family of 3. They were wearing normal clothes and not the typical outdoor gear that is promoted by places like REI or the traditional Sierra Club member. He then asked the group if they thought that the people in the picture fit into the perceived notion of what gear you need to enjoy the outdoors. When compared to an ad put out by the Sierra Club depicting a lone person fully geared to go backpacking there were even bigger distinctions noticed. The message is essentially the same but it probably appeals to different audiences.
So, he then asked direct-service providers in the audience (mostly National Park Service rangers) to ask themselves, "What am I doing to create opportunities that people then choose to be a part of?"
What can you do? You can spark growth by learning different ways in which you can frame your story. This can manifest itself in doing outreach in non-traditional outlets for job postings, framing the program language so that it appeals and engages non-traditional audiences and finally, exploring what levels of discomfort you are willing to put yourself in to grow as an organization, as a professional, and as a modern conservationist.
"The Philosophical Aspects of Cultural Difference" Adapted by Charles Thomas from original work done by Edwin J. Nichols, Ph.D.