Announcing the New Park Prescription Program Toolkit
Image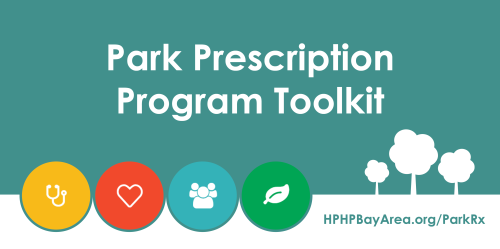 Story/Content
Park Prescription programs are initiatives designed in collaboration among public land agencies, healthcare providers, and community partners to encourage people to utilize parks, trails, and open space for the purpose of improving individual and community health. National Geographic just wrote about Park Prescription programs and these programs have been recognized by the Surgeon General's Office, the National Park Service, and the American Public Health Association as important tools to promote wellbeing.
This is all to say that Park Prescription programs have really flourished in the United States. One question still remains: "How do I build my own Park Prescription program?"
That's the question that the Institute always receives. As the convener of the Healthy Parks Healthy People: Bay Area collaborative and the National ParkRx Initiative, it makes sense that we get fielded this question. Answering this question has been our guiding light for the past few years. We've led workshops, hosted webinars, and written reports, all in pursuit of finding out what makes a Park Prescription program work.
After years of observing programs, especially those in the Bay Area, we have created a Park Prescription program toolkit to guide the process of creating a program. This toolkit is a "program-in-a-box," curating examples, templates, and guidance for those interested in implementing Park Prescription programs. We know that there are a myriad of agencies interested in building these programs, so this toolkit was created with sector-specific guidance for clinicians, public health providers, community service providers, and parks staff.
I hope that this resource makes it easier for you to serve your community!