#FindYourPark at the Library!
Image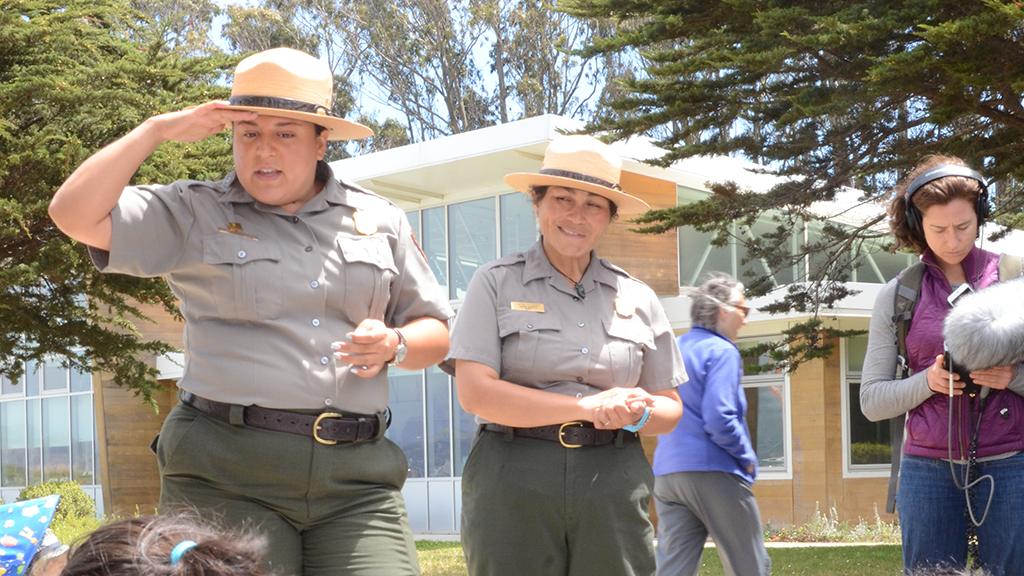 Story/Content
This summer, the National Park Service and the Golden Gate National Parks Conservancy have teamed up with San Francisco Public Libraries. It's been a summer of reading, learning, and lots of park fun. Park rangers are visiting San Francisco libraries throughout the summer, and folks can become a "Reading Ranger" after reaching age-appropriate reading goals. Free community shuttles are taking nine communities from their local library to their national park, with many riders being introduced to national parks for the very first time. This summer has already been such a success with packed shuttles leaving libraries every Saturday; we're all starting to wonder why we haven't always done this.  Libraries and parks are natural partners. 
This past Saturday I saw this partnership in action as I joined San Francisco's Mission District community on an adventure to Crissy Field. I was greeted at the Mission Library by Conservancy folks, librarians, and some of my favorite park rangers. There was a large group of families milling outside, and everyone was a little giddy – even the regular park goers. After a brief introduction in Spanish, English and Chinese, we all boarded the bus, and headed to Crissy Field. While there, we had story-time, a nice visit with a trusted steed from the park police, and, of course, a nature hike.  All in all, I had a lot of fun, and I know the families enjoyed themselves too.
Afterwards, I kept thinking how genius this program is. The merits of libraries and parks co-crafting reading and outdoor experiences are undeniable, and I think everyone recognized that this was a good idea. What has been a surprise is how hungry our community was for this. Librarians are signing up families' weeks in advance, and eagerly sourcing complementary reading materials for the school-age children. There is a set of seniors who, after attending the first community shuttle from the Chinatown library, have showed up for the 5 subsequent shuttles. We have kids reading, avoiding the dreaded summer slide, and spending time outdoors with their families. This program is a slam dunk in terms of positive community impact. No one could have asked for better outcomes, or better partners. And that might be the secret sauce to this genius idea: great partnership. 
One of the important lessons that I keep re-learning in my professional life is that you don't have to do it alone: working with friends can improve the quality of the work and the enjoyment of doing said work. This partnership with the National Park Service, the Golden Gate National Parks Conservancy, and San Francisco Public Libraries showcases how collaboration makes bigger outcomes, and can create more dynamic programming. 
So this summer, I hope to not only up my reading (I really want a "Reading Ranger" badge), but also build some new partnerships.